Sunday, June 7, 2009
Posted by

IJ
at 3:07 PM
No comments: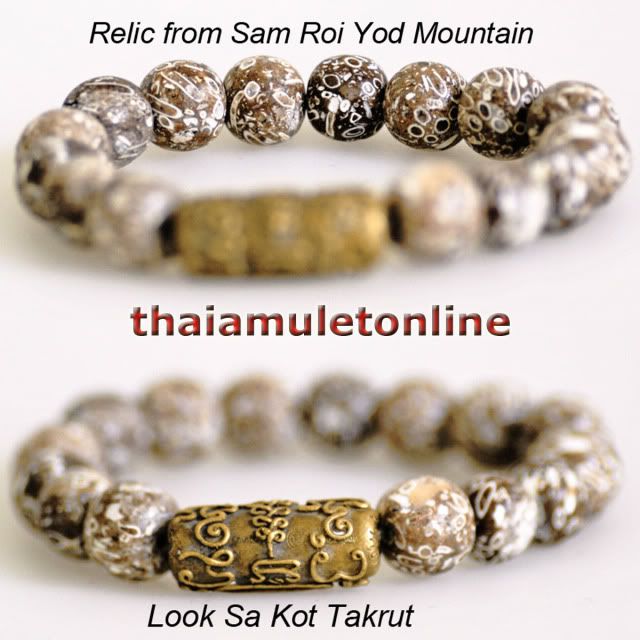 Beautiful Bracelet Buddha Amulet made of carved Relics Stone from Sam-Roi-Yod Mountain
Powerful by nature, Strong efficacies in all aspects
Always wearing to bring peacefulness & happiness to your life
Enhance your meditation to be more effective and deeper
Enhance your charms (Metta), Lead good supports from surrounding people
3 levels of Harm Protection to protect you from any weapons & accidents
Wearing this amulet could ward-off all evils & black magic
Lead big wealth & luck to you, Make you success in your career
Always wearing to improve your health, Provide long-live living
Can make holy water to improve sickness, repel evils & black magic inside human being
Always wearing to give you early warning of good and bad things
Lift-up your fate, Protect you from birth year & calendar year conflict
Back to the year BE500, Sam-Roi-Yod Mountain was a perfect place for meditation as the place was silent and had a lot of caves and the mountain was not too high (Sam-Roi-Yod means 300 peaks).

At that time, a lot of strict Buddhist monks went there to practice meditation and seek for enlightenment following the Lord Buddha.

After long and serious meditation, a lot of monks became powerful with ultimate paranormal power and could reach the state of Nibbana
enlightenment and finally passed away leaving their holy bones in the caves.

As the bones possessed ultimately strong supernatural power, the stones in the caves on Sam-Roi-Yod Mountain were induced by the bones to possess strong supernatural power and a lot of beautiful curls were induced on the stones by the power.

In term of Geology, the curls happen because of calcium in the caves dissolved in water and became crystal after hundred years passing by.

But to me, I believe that the curls happen because of supernatural induction that makes the calcium to form crystal lines in the stones as this kind of phenomena is not found in most caves on other mountains.
About the Look Sa Kot:


Top Powerful Look Sa Kot – Control Enemy and Bad thing.

Name: Look Sa Got

From: LP Aun, Wat ThamKoSok, U-Thai Thani province.

Color: Gold

Material: Samrit pours the gold Metal. This holy material had melt follow ancient textbook.

Year: 2008 (B.E.2551)

Size: 1 cm x 2.5 cm

Purpose for making: This amulet made for join donation to the temple.

Holy Ceremony: This amulet blessed pours the gold at Wat ThamKoSok which first pours the gold on 11 October 2008 and blessed by LP Aun more than 1 year.
Origin: Thailand

Powerful of this amulet: This amulet can bring protection from weapon, ghost, enemy and bad thing.

Biography of LP Aun:
When He was a layman he had been closing disciple of KB SeeViShai, Chiang Mai province who was knowledge of Dhamma and Sammahdti and would accompany in his Master whenever KB went Tudung until he was a police. Also, he was confidant subordinate Arjarn KunPan (layman). LP Aun was ordained in B.E.2498.
LP Aun is famous guru monk of Wat Thammakosok(Rongko), Uthaithani province. LP is one of top famous guru monk of Uthaithani province. Many people called him that "LP Aun Taywada(God)".

LP Aun had learned magical knowledge following LP Suk of Wat PakMakhamTao, LP Derm of Wat NongPho, LP JungTaRa Chai Nat,
LP Ploy of Wat HuayKahNaang who knowledge of Visha TaKrut Tone, LP Ken of Wat DongSetTee, LP Kleub of Wat NgaungKaDee, LP Poon of Wat NgaungTaNgoo who famous with using mental power cooperates with herbs and LP Tee of Wat Luang. LP Aun had following Visha "Pirungambang" and "Theprunjuan". LP has been an expert of concentration of mindfulness in Buddhism way.

Posted by

IJ
at 2:25 PM
1 comment: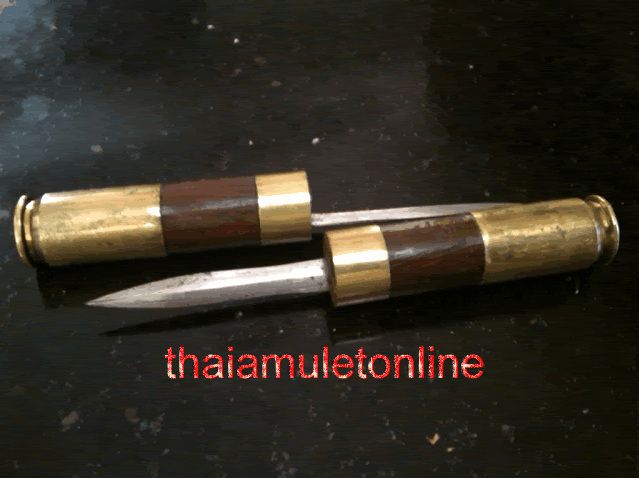 Made by LP Lah Wat Wang Prong Khe, Lopburi Province, in year 2008.
The donation is for building Preaching Hall.
LP Tone is the Abbot of Wat Wang Prong Khe.
Posted by

IJ
at 1:34 PM
No comments: