Saturday, July 11, 2009
Posted by

IJ
at 4:35 PM
1 comment:

Posted by

IJ
at 4:32 PM
No comments:

Posted by

IJ
at 4:30 PM
1 comment:

Wednesday, July 8, 2009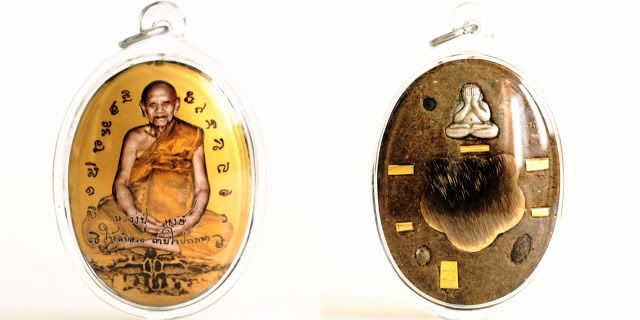 Temple: Wat Petburi
Year: BE 2549


For the people that visit Luangpu Hong 10 of years ago would known well that Luangpu Hong was sit on top of leopard skin. As leopard emblem power, agility and wisdom, as Luangpu Hong title "Prommapunyo" mean one with the wisdom of Brahma(PhraPhrom). In countless ceremony that Luangpu Hong been visited lead bless/chant holy items and main ceremony lead by Luangpu Hong himself, all of times he was sit on the leopard skin.

This is the amulet, special batch that made few attached with this leopard skin Luangpu Hong bless/chant countless ceremony, 6 gold trakruts auspice number bring great fortune and protection, Phra Pidta image blessing
great protection, metta, and luck
.

Charnmark herb ball chanted for good health fortune.

Front side words "Luangpu Hong Prommapunyo Haikumruay Tarmjaiprardthana" mass bless/chanted, all words bring prosperous fortune, followed heart to all success wishes.
Posted by

IJ
at 2:04 AM
No comments:

Sunday, July 5, 2009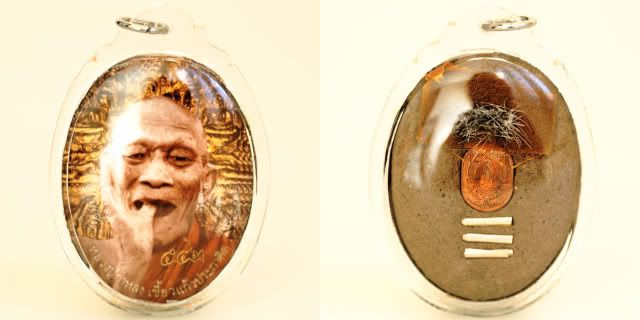 LP Garlong of Wat KowLam



Material:


1. Enamel
2. Nawaloha 9 kinds as gold, silver, copper etc.
3. Yants of LP Garlong and LP Suk at Wat Pak Khlong Makham Thao (mystic symbol)
4. Metal and Bronze in Phrachao Chai Won Man age (king of Cambodia)
5. TraKruts of LP Garlong and many popular monks in Thailand.


Year:

C.E. 2008 (B.E. 2551)


Build:

999 items.
This Locket is "Akhom Khiaokaeo" strong power to control spirit and bring luck.
Posted by

IJ
at 5:48 PM
No comments:

Posted by

IJ
at 5:43 PM
No comments:

Posted by

IJ
at 5:38 PM
No comments: