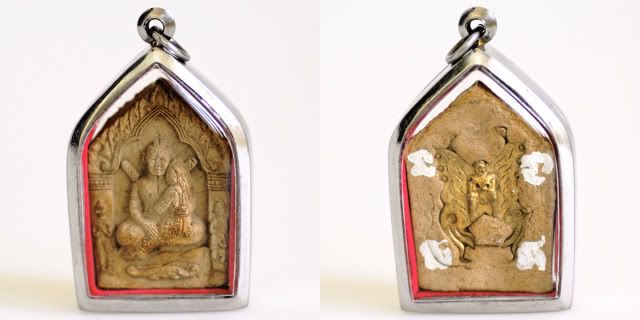 Name: Khun Phan "Yod Pid Sa Wah" = Khun Phan is the top of love
From: LP Sai, Wat NamWiJit, Srisaket province
Color: Brown

Materials and Ceremony: The materials and step to make Khun Phan:
1. Powder from "Ka Fark Ma Room", "Ka Fark Luck Saun", "Ka Fark Ma Yom", Ka Fark Ton Koon, "Wahn Chang Pa Som Klong" "Wahn Jung Naang". All of powders are known as powerful things (Wahn) that could bring luck and help the owner to be admired and love.
2. Bring all of materials mixed together with "Wahn" oil and spell oil until all become same uniqur materials.
3. LP Sai molded Khun Phan amulet follow the old Cambodia's magic book.
4. Put magic charm! "Mae Pur Jum Lang" on the back the image, made from spell metal. This spirit is known as mysteriousness that has super power brings luck and helps the owner to be admired and love.
5. LP Sai calls Khun Phan and Mae Pur spirits into the images with ancient KaTha.

Size: 2.8 cm x 3.9 cm.

Origin: Thailand

Year: 2005 (B.E.2548)

Purpose for making: Making this amulet is joining donation at the temple.

Powerful: People believe that Khun Phan image can help them to be admiring from boss and followers as well as customers and to be love from opposite sex. In addition, this amulet can help the owner be luck in love and give them strength to be brave.

LP Sai's biography:
LP Sai of Wat NamWiJit, SiSaKet province who has much power and supernatural power merit. He studied meditation, magic incantation, and magic drawing from many Arjan of Cambodians. LP Sai is highly revered and respected for his powerful mind developed from meditation and mantra, ancient astrology, traditional medicine and incantation. LP Sai is one of the famous guru monk who has been created many famous amulets and very popular among Thai amulets collectors and foreigner.


The katha was written specially for this amulet



Ohm Sitti Srisri Rasri




Na Goo Kue Tongfa



Na Ma Pa Ta



Na Goo Kue Praman



Na Ma Pa Ta



Kan

Goo Ngarm Kue Pra Narai



Na Ma Pa Ta



Bai Nar Goo Ngarm Kue Pra Artit



Na Ma Pa Ta



Rit Goo Ngarm Kue Prajun



Na Ma Pa Ta



Sao Nai Merng Sawan Hen Nar Ku Yoo Mi Dai



Na Ma Pa Ta



Goo Rumpung Tung Tonmai Gor Hai Ngong Nguay



Na Ma Pa Ta



Goo Rumpung Tung Phaya Hong Kor Ler Tum Kooha



Na Ma Pa Ta



Goo Rumluk Tung Maha Sena Kor Lerm Tan Tinon



Na Ma Pa Ta



Goo Rumluk Tung Prai Kor Lerm Pra



Na Ma Pa Ta



Goo Rumruk Tung Sao Chai Kor Lerm Mair



Na Ma Pa Ta



Goo Rumluk Tung Tao Tai Kor Ma Lerm Suadmon



Na Ma Pa Ta



Goo Rumluk Tung Foong Chon Kor Maruk Yoo Tuan Nar



Na Ma Pa Ta



Goo Mar Rumluk Tung Took Chun Fa Lair Devada Took Pimarn




Goo Mar Rumluk Tung Took Chun Fa Lair Devada Took Pimarn



Na Ma Pa Ta



Ohm Sitti Swaha